Grove is a modular electronics platform for Arduino-based quick prototyping that does not involve soldering or bread boards. Simply plug the Grove modules into the Grove shield and leverage the example code provided for each Grove module. Grove is a modular, ready-to-use tool set. Much like Lego, it takes a building block approach to assembling electronics. Compared with the traditional, complicated learning method of using a breadboard and various electronic components to assemble a project, Grove simplifies and condenses the learning process significantly. The Grove system consists of a base shield and various modules with standardized connectors. The base shield allows for easy connection of any microprocessor input or output from the Grove modules, and every Grove module addresses a single function, such as a simple button or a more complex heart rate sensor. Each one comes with clear documentation and demo code to help you get started quickly. For an excellent introduction, go to:
http://www.seeedstudio.com/wiki/Grove_-_Starter_Kit_Plus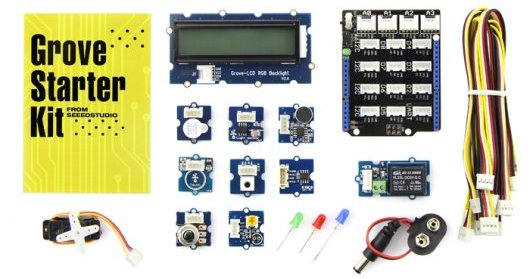 You will need to complete the following steps:
1. Download Arduino IDE and install the Arduino Driver on your laptop computer.
2. Plug in your Arduino board via the USB cable, and select the correct board type in the IDE software.
3. Download and import the Grove - Starter Kit sketchbook code at:

https://github.com/Seeed-Studio/Sketchbook_Starter_Kit_V3.0

4. Other Grove support code can be found at:
https://github.com/Seeed-Studio

5. Control code can then be written and loaded onto the Arduino board using the IDE software.